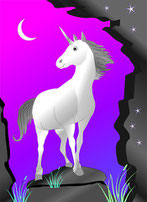 Capucine is five years old. Her dream is to become a vet in order to nurse unicorns, her current passion.
For the time being, she contents herself with following young donkey Trotro's adventures, nestled on the sofa with her darling dog, Bijou.
When Capucine has a great sorrow, her sister Emma takes her to Au Chat Bleu and she offers her her favorite treat, a white chocolate mouse filled with crisp praliné.
The charming old-fashioned shop is a magical place. No sooner have you stepped through the door than its treasures bewitch your senses.
As you leave with some of its delicacies, you take away a beat of timeless bliss auguring gourmet breaks.